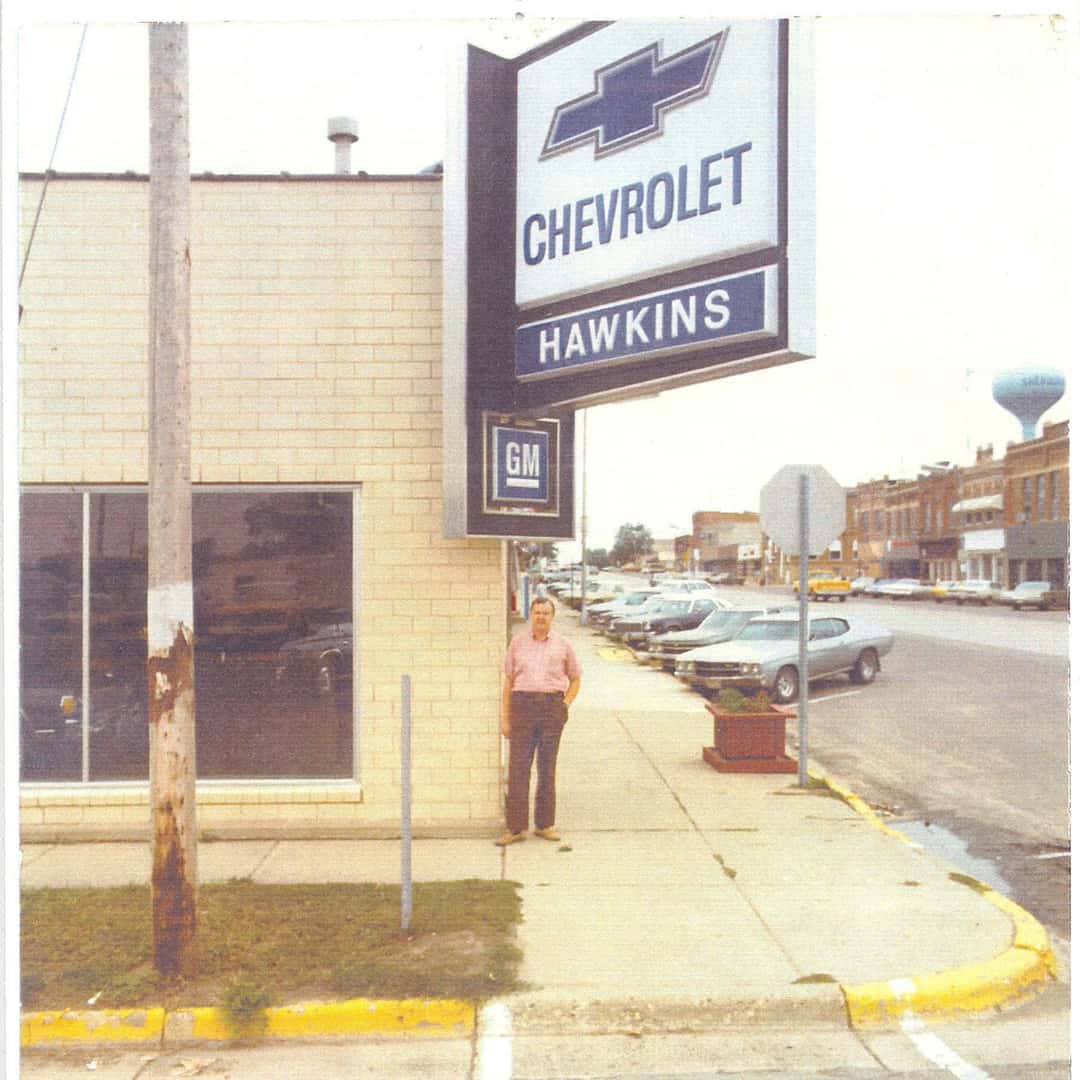 PRE-HAWKINS
The DNA of Hawkins Chevrolet was established well before its birth. Ed Markquart of Jackson, MN started a full-service gas station in 1931 called Markquart Oil Company. During World War II, they did minor repair and maintenance on cars, sold and recapped tires and even had a couple of slot machines in the basement. In 1946, they started selling Hudson cars and soon after became an Oldsmobile dealer and a GMC heavy-duty truck dealer. In 1955, Lee Markquart came home from college and joined the business. In the next number of years, they added Cadillac, GMC small trucks and Rambler. In 1965, they purchased the local Chevy/Pontiac/Buick dealership and dropped the Rambler franchise. Having all six GM franchises was rare and Markquart's was one of the first in Minnesota and in the nation with this distinction.1

1 "Great Game of Business" by Lee Markquart
Hawkins Chevrolet
THE BEGINNING
In 1967, Lee Markquart convinced his sister and brother-in-law to move closer to home and get in the car business. Rene and Windom, MN native Tom Hawkins had been married for 10 years and lived in Nebraska, Iowa and lastly Minneapolis. After checking out available dealerships in Lakefield and Sherburn, the dealership in Sherburn became the single choice when the dealer in Lakefield decided not to sell. In June of 1967, Hawkins Chevrolet purchased what had been Theobald Chevrolet in downtown Sherburn. Local Sherburn farmer Edgar Larson had been selling cars for Markquarts in Jackson for a number of years, so he began to sell for BOTH dealerships. In 1970, Lee and Mary Markquart and family sold the Jackson dealership and purchased a dealership in Eau Claire, WI. At that time, Edgar began selling exclusively for Hawkins in his hometown.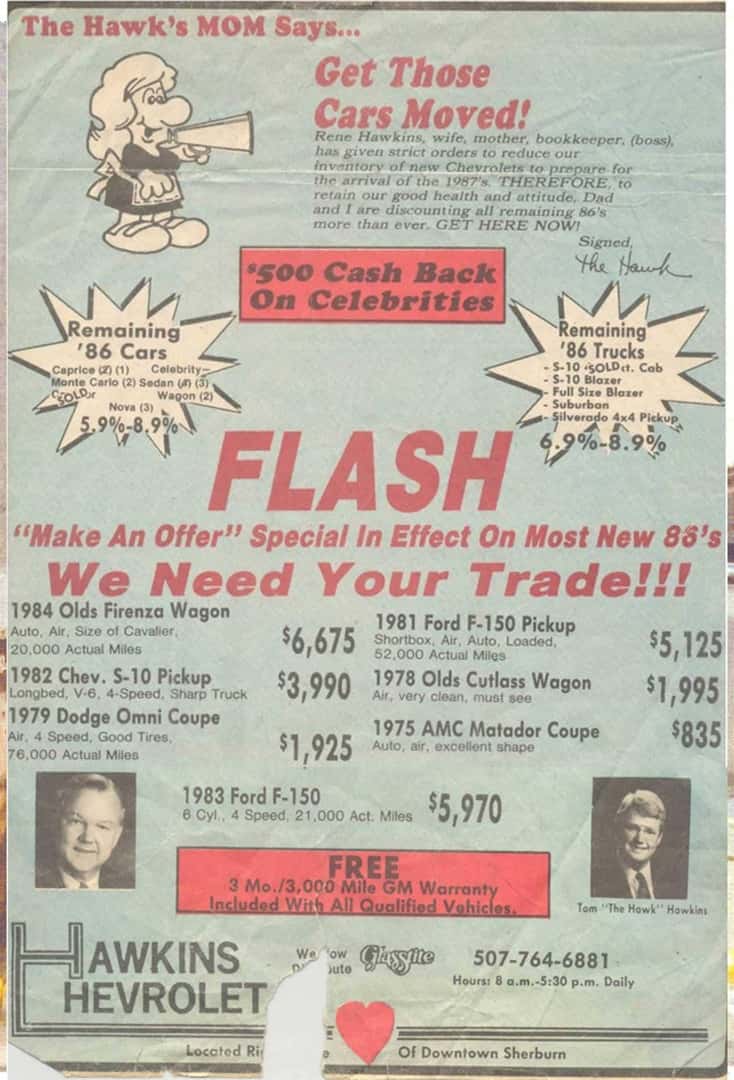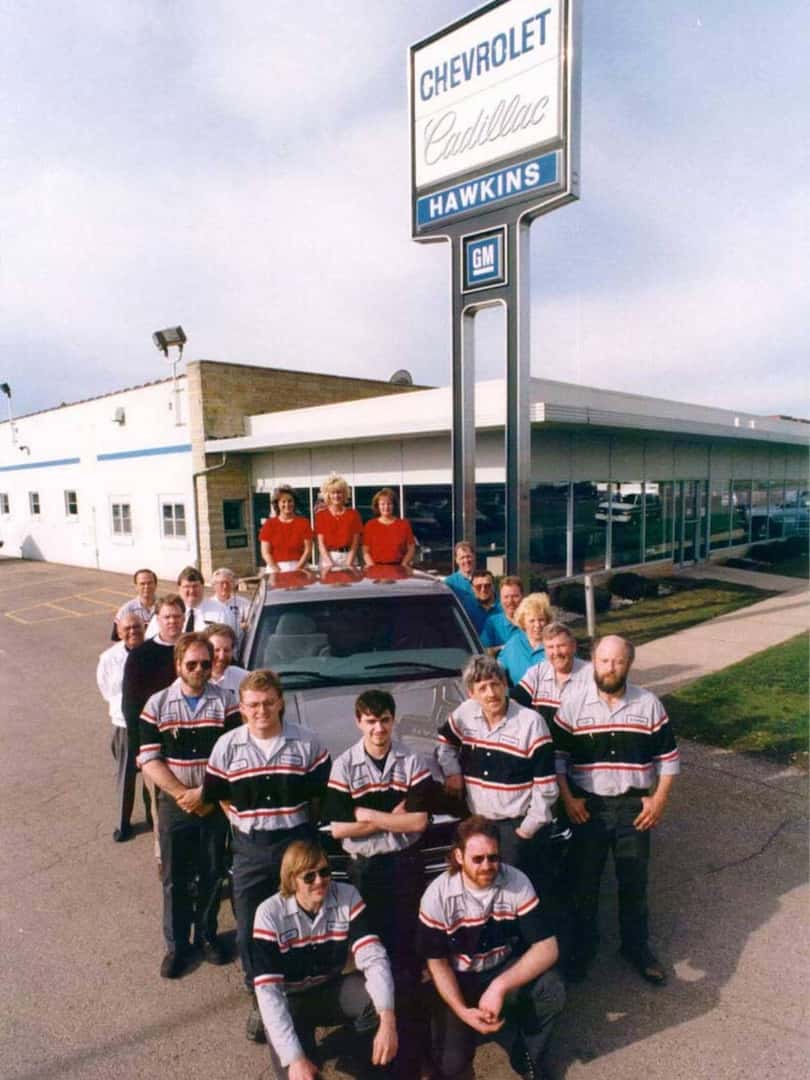 Hawkins Chevrolet
THE NEXT STAGE
In early 1981, Edgar Larson was ready to quit selling cars and devote all his time to farming. About the same time, Tom and Rene's oldest son Tom had just graduated from St. Cloud State University with a business degree and was planning to start a business career in the St. Cloud area. However, when his parents asked him to join the family business, Tom took the opportunity to move home and learn the car business. In 1981, business was tough as it was an inflationary time and interest rates were between 15 and 20 percent. After learning the basics of selling during his first few weeks, Tom ventured south of Sherburn and started knocking on doors. After many days of meeting people and hearing a lot of "no's", he stumbled onto the farm of Harold and Elsie Koehler who happened to be in the market for a new car. Harold and Elsie were kind enough to become Tom's first career car sale. The car business began to change in the 80's with the introduction of dealership computer systems. Hawkins Chevrolet was one of the first and smallest dealers to have a comprehensive system for bookkeeping and sales management. On advice from Lee Markquart, we also started running quarter page ads in the Fairmont Sentinel with spot color. Color was rarely used in rural communities due to the cost, but it helped Hawkins get noticed as an area car dealer.
Hawkins Chevrolet -Cadillac
A NEW STAGE
During the spring of 1988, the elder Tom was at Motor Inn in Fairmont picking up some parts. The parts manager, Phil McFarland, told him that Motor Inn was for sale and suggested that Hawkins consider buying it. As the smallest Chevy dealer in many miles, it was not likely that Hawkins would buy out one of the best Chevy dealers in southern Minnesota. Motor Inn was a well-known business owned by the oldest active Chevy dealer in the nation at that time, 89-year-old Howard Essler from Blue Earth. When Rene's brother Lee Markquart heard about the availability of this well-known dealership, he decided to invest with Tom and Tom Hawkins to purchase Motor Inn. On January 3rd, 1989, Hawkins Chevrolet in Sherburn moved to Fairmont and became Hawkins Chevrolet-Cadillac.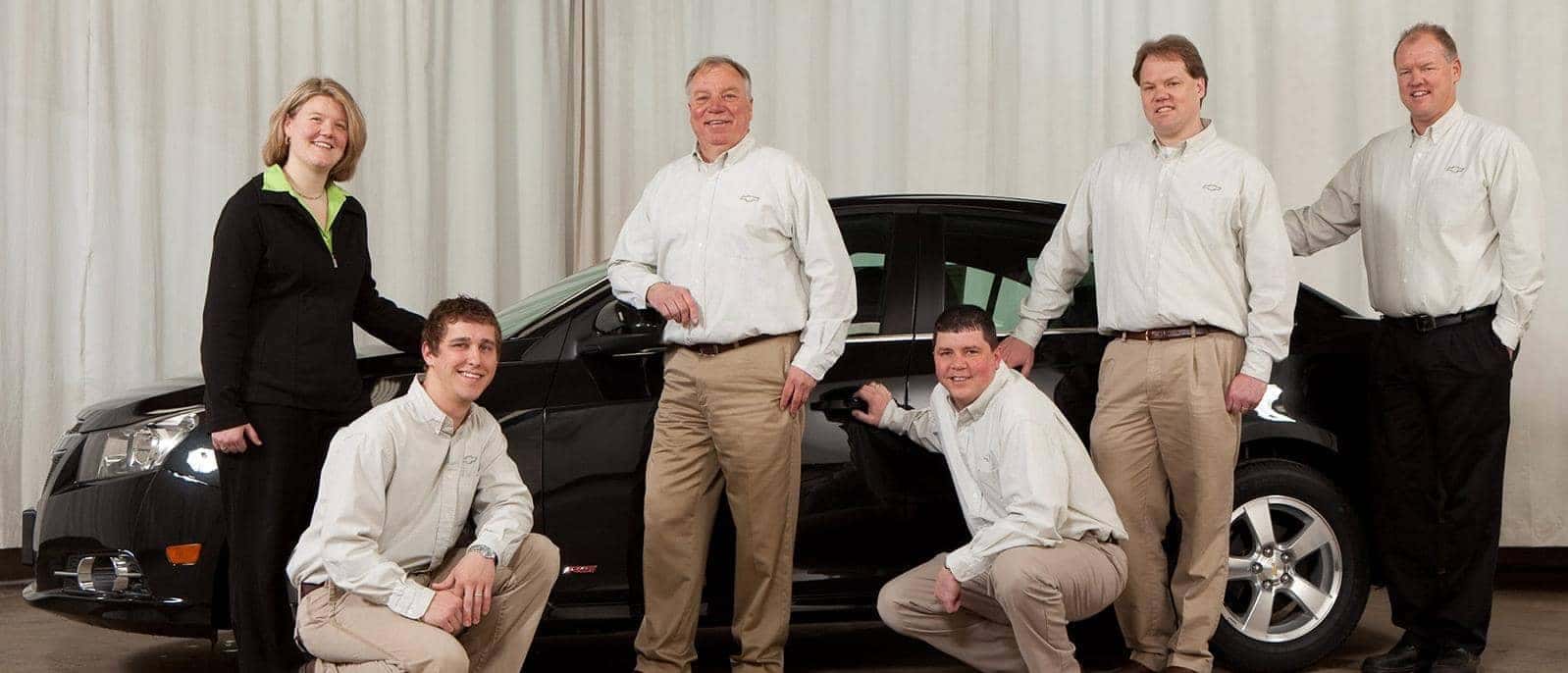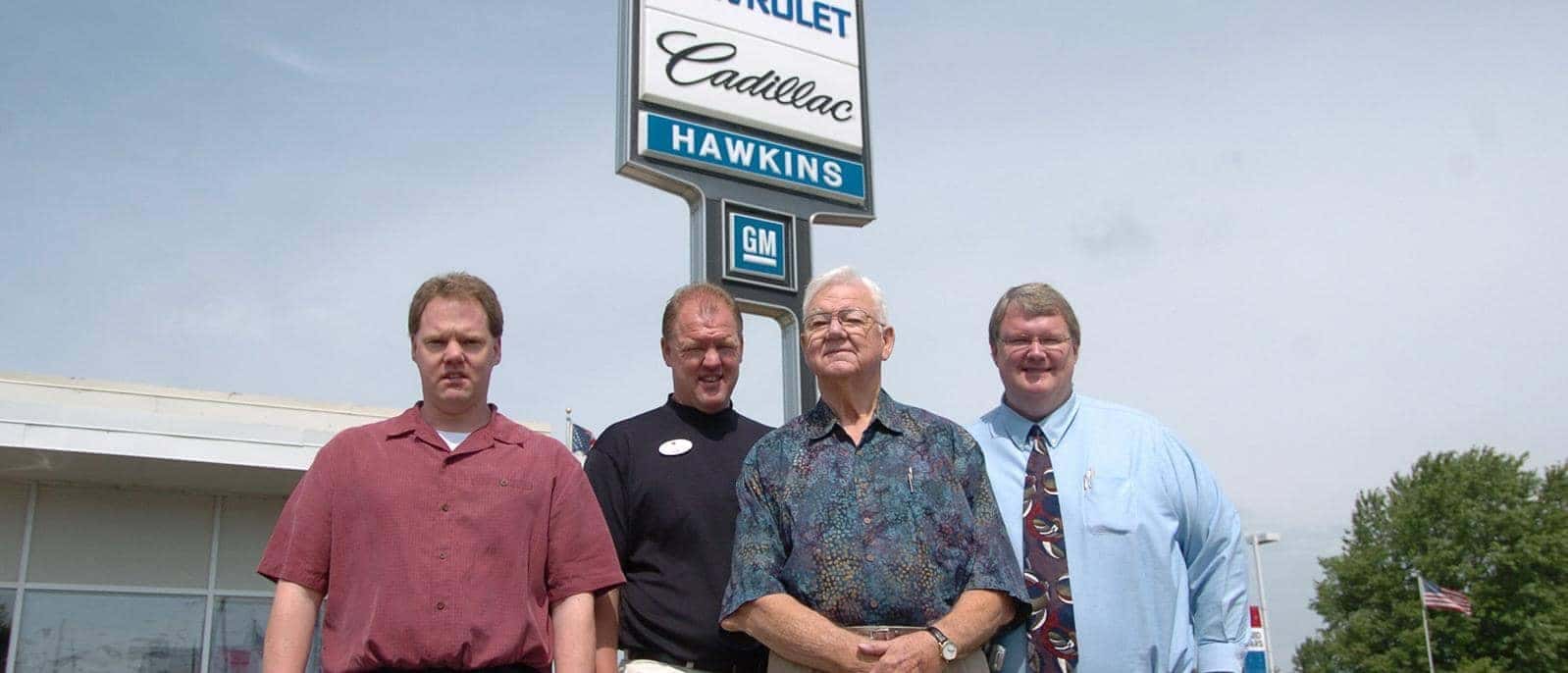 Hawkins Chevrolet
THE FAMILY TRADITION CONTINUES
In 1991, after 4 years teaching school, Mark Hawkins joined the family business as a salesperson and eventually also became the used car manager. In late 1993, Steve Hawkins graduated from college and joined the service department, eventually becoming the Service and Parts Director. In 1999, Mark Hawkins purchased Lee Markquart's stock in Hawkins Chevrolet-Cadillac to become partner with his father and brother. In 2005, Tom purchased the stock of his father to become majority owner with brother Mark. Many new services were added during these years. A service department upgrade brought the addition of high-tech alignment and tire balancing service. Also, Hawkins acquired the Reco Motors building and established a car detailing business that included full-service customer car detailing as well as an automatic car wash for our service customers. During this time, we also added a daily rental car service that proved to be a much need service for the community.
Hawkins Chevrolet
COMES FULL CIRCLE
With the financial problems of General Motors in 2009 and their eventual bankruptcy, Hawkins Chevrolet-Cadillac was one of many of the nation's dealerships to lose the Cadillac franchise. This was the beginning of the process to again become Hawkins Chevrolet. At the end of 2009, long time employee Evie Anderson retired after 4+ years of leadership with the company. At that point, Steve Hawkins was tapped to lead the Hawkins Sales Team after many years of guiding the service and parts departments, working directly with brothers Tom and Mark for the first time. Most recently, in January of 2018, Steve was named General Manager and given operational control of Hawkins Chevrolet to guide the team into the future. At the same time, Don's Body shop closed due to retirement and a decision was made to build a new body shop building to maintain that business. As of September 2019, Hawkins Chevrolet is back in the auto body business after a 35 year hiatus with a full-service, state-of-the-art collision center across the street from our dealership building..

We want to acknowledge all employees, current and former, as well as our gracious customers for shaping the history of Hawkins Chevrolet. We are thankful and honored for all that have played a part. Like many industries, things are still changing dramatically in the auto business. We have some exciting goals for the future of Hawkins Chevrolet and look forward to experiencing them with all our present and future customers and friends.